Schedule an Appointment

Call 617-855-3385
(toll-free 1-877-940-8952)
Monday–Friday, 8:30 a.m.–
5:00 p.m.

Fax: 617-855-3757
The McLean Imaging Center supports three clinical whole body magnetic resonance scanners in the same building. A Siemens 3T and a General Electric 1.5T scanner are used for both clinical diagnostic imaging and research while the Varian 4T scanner is used for research purposes only.
Siemens 3T Scanner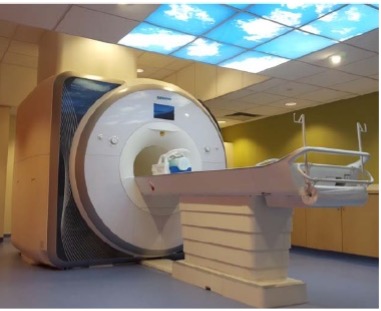 The Center's high field clinical scanner is a Siemens
Trio 3T whole body scanner (Siemens Medical Solutions USA Inc., Malvern, PA), installed in July 2003. This scanner was upgraded to a 32-channel TIM platform in 2009, significantly enhancing image quality and scanning speed. The Trio system is approved by the FDA for clinical diagnostic use. It has full EPI/fMRI/DTI capabilities as well as proton and multinuclear spectroscopy. The TIM Trio features a 32-channel RF system for use with array coils and parallel imaging, and high speed gradients (40mT/m, 200 T/m/s slew) for efficient echo planar and diffusion tensor imaging. The high sensitivity and the parallel imaging speed make DTI and fMRI attractive applications for this system. Additional options include the complete set of online and offline image processing and applications for head and neuroimaging methods including Arterial Spin Labeling (ASL), PACE patient positioning regularization, and fast T2 anatomic techniques including BLADE and SPACE. The 3T scanner time is divided between clinical scanning and research.

General Electric 1.5T Scanner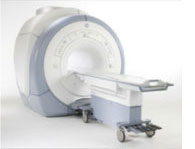 The 1.5 Tesla Signa (General Electric, Milwaukee, WI) clinical whole body magnetic resonance scanner (Level 8.4 LX, CNV3) is a clinical diagnostic scanner with vascular angiography and echo planar imaging capabilities, including ultrafast functional imaging, contrast-bolus tracking, and diffusion imaging. This system replaced an earlier GE 1.5T in 2001. A number of coils are available for imaging including a standard quadrature head coil, surface coils, and custom-built phased-array coils. This is primarily a clinical diagnostic scanner, with only about 10% of time reserved for research scans.

Varian 4T Scanner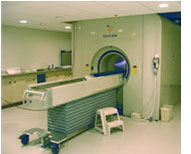 In addition to the two clinical diagnostic scanners above, the Center is equipped with a research scanner. This unit is a 4.0 Tesla Varian Unity/Inova whole body magnetic resonance scanner (Varian NMR Instruments, Palo Alto, CA). It was installed in February 2001 and has four 500 kHz RF receivers to allow the use of phased array coils for imaging and spectroscopy. The high duty cycle body gradient set allows for rapid multi-slice echo planar imaging. The system has a wide variety of RF coils, including two quadrature transmit/receive proton head coils, a detunable transmit only proton head coil for use with surface coils, a number of dual tuned head coils, including proton/phosphorous, proton/carbon, proton/flourine, proton/lithium and proton/sodium, and various smaller, locally built coils. 100% of the 4T scanner time is devoted to research. In 2010 the Center was awarded a NIH Shared Instrumentation Grant for $500,000 to upgrade the magnet to a direct drive system; the upgrade was completed in April 2011.